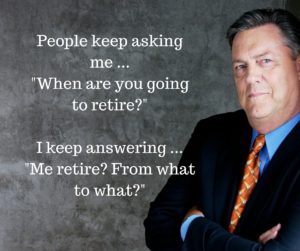 I guess it is just a part of getting a little older (not old … just older). It seems like a lot of people have been asking me lately, "Hey Jim, when are you going to retire"? My answer has always been the same! "Me retire? From what, to what"?

What I mean is this. I love what I do and consider it an amazing treat to have been a professional speaker, trainer and consultant in one of the coolest industries ever for over 25 years! I don't consider it work, or a job. There is nothing to retire from. And, what in the heck would I retire to that would even begin to be as much fun and fulfilling as designing, developing and delivering sales training for the most elite sales organizations all over the world?
Today I do have a new answer to not just one but both of these questions!
Retire From What …
The answer to that question has finally become an easy one for me – travel! Early in my career I spent 2 1/2 years with Fred Pryor Seminars delivering workshops 8 hours a day, 4 days a week, 40 weeks a year! To say the least, it was a grind. The travel that came with it was just a long, and sometimes exhausting, commute to learn and perfect my craft. Those days the turnover rate at Fred Pryor amongst the trainers was over 60% a year! That astronomical turnover was attributed to the challenges associated with the travel.
Travel has never bothered me! I just put my head down and moved from one event to another through the years no problem. The payoff has always been the awesome privilege to stand before thousands of amazing audiences. To share something that would make a difference in their professional, and personal, lives!
The fact that travel has never bothered me has changed over the last few years! TSA, crowded planes, lousy airline service and just the total failure of the airline industry in general has added up to a commute I don't care to make any longer,. So retire from what? Travel, that's what!
Retire To …
The answer to that question revealed itself to me just a little over a year ago. To build my own real estate business! What was interesting is how it came about. I will write a more detailed story line at a later date. Suffice it to say that I have always known that real estate was what I was going to do next.
In the process of discovering what I needed to do to get my real estate license I ended up with a consulting opportunity. Get this, training, consulting and coaching new agents building their real estate businesses! And, it was only 10 minutes from the house. That, my friends, is a commute I have come to really appreciate!
Keller Williams Productivity Program
For the past year I have been responsible for the Productivity Program for Keller Williams in Sugar Land, Texas. And, I have loved every minute of it! What is so cool is this. While I have been helping others get their business started I have been able to learn a ton about how I wanted to build my own business! I have been learning about the types of systems and models that would serve the people, like you, that I want to build my business for!
So, Here We Go …
July 4th, Independence Day, 2016 we launch our own real estate business! Our goals are simple …
Leverage our experience teaching the world's elite sales teams how to become "Trusted Advisors" to their clients to become that same kind of valuable resource to you, our real estate clients!
Leverage our experience teaching world elite customer service organizations how to deliver a WOW Client Experience to bring an unmatched client experience to you, our real estate clients!
Leverage our experience in utilizing the latest in technology to bring valuable resources, that are a game changer in an industry that is lacking when it comes to innovation, to you, our real estate clients!
As always, we will serve you with total integrity, total transparency and total commitment to doing what is in your best interest at all times! We invite you to join us. Whether you are buying or selling real estate, we would look forward to the opportunity to earn your business!
So, having made the transition, I am back to square one! Me retire? From what, to what?
PS … for those of you who I am currently doing speaking, training or consulting for I am not totally retired from speaking. I am just being very selective about who, when and where!
Click Here to download YOUR personal real estate APP!
Jim Jacobus Realtor
Keller Williams Southwest
281-725-8367
jim@TeamJacobus.com